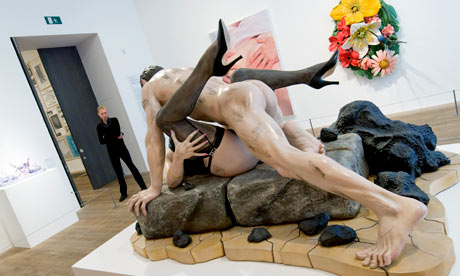 Photograph by Christian Simbaldi for 'The Guardian'.
Just dropping by to say that if you are planning on visiting the 'Pop Life' exhibition at the TATE modern you might not want to take your mother with you... at least not in Jeff Koon's porn room. Let's just say this HUGE sculpture was not so easy on the eyes/safe for work at any other angle. Neither was the silkscreen measuring 2.5 by 1.5 meters of his ex wife Ilona Staller's asshole... as for the rest they were pretty much billboard sized cumshots...
It was no more uncomfortable as when I took her to see Marina Abramovic's 'Balkan Erotic Epic' at Compton Verney where we watched women running around baring their vagina's in the rain for the sake of agriculture. But at least there was a valid message there beyond "hey look at me I married an Italian pornstar", which only fed my opinion of Koon as an hubristic megalomanic. Nevertheless maybe my judgement would be less harsh if I wasn't under parental supervision? Either way I could have done without the asshole. Cheers Jeff!
Me stiff backed, my mother giggling and red faced, I wasn't sure if we were viewers or voyeurs, experiencing that room as a family affair made viewing Damien Hirst's dead calf in the next section feel like a breezy walk through the park.
Mummy must be having a serious wander about where my artistic interests lie... Maybe next time I should take her to see the impressionists?